invicta load centers with MCCB incomer
Hager has developed invicta load centers as a solution for modern commercial and residential installations.

The invicta 125A and 250A load centers are available with pre-fitted multiple incomer choices.
The range is presented in flush and surface mounting enclosures.
It includes boxes with capacities of 4 ways up to 24 ways.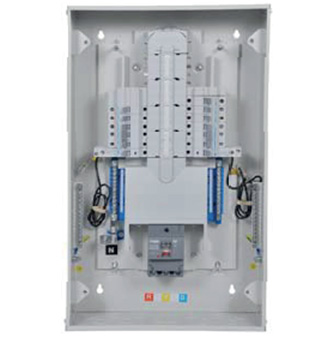 Your benefits
High flexibility: removable and height adjustable PAN assembly

Sustainability:1.2mm thick treated and powder coated sheet steel, tinned copper busbar preventing corrosion

Easy installation: removable and reversible door

Fast extension: top "Tap-Off"

High protection: rated short circuit withstand capacity of 17kA for 0.25sec

Safe maintenance: fully insulated busbar IP20 incomer shroud

More comfort: ample wiring space

More safety: push to open and key lock provision

Technical characteristics
Standards : IEC 61439 - 1 & 3

ASTA certified

Current rating: 125A/250A

Operating Voltage: 220 I 440 VAC, 3 PH 4 wire

Frequency: 50/60 Hz

Short circuit withstand: 17kA for 0.25 sec

Peak short time withstand: 34kA

IP41

Range: 4/24 TPN - 12/72 SPN way

Colour: RAL 9002

Incoming Devices MCCB
Standard: IEC 947-2

Incomer rating: up to 125A (F4) & 250A (F5)

Outgoing Devices MCB /RCBO
Standard: IEC 898 I IEC 947-2 I IEC 61009

Outgoing rating: up to 63A