invicta TPN 125 type B distribution boards
Hager has developed invicta TPN distribution boards as a solution for modern commercial and residential installations.

The invicta range includes 125A boards with multiple incomer choices.
The range is presented in flush and surface mounting enclosures.
It includes boxes with capacities of 4 ways up to 24 ways in fixed and split load types.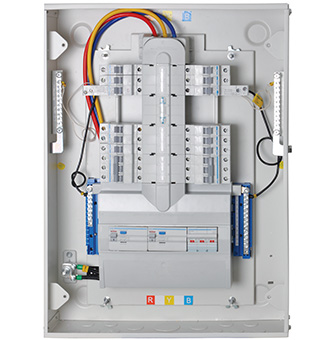 Your benefits
High flexibility: removable and height adjustable PAN assembly

Sustainability:1.2mm thick treated and powder coated sheet steel, tinned copper busbar preventing corrosion

Easy installation: removable and reversible door

Fast extension: top "Tap-Off"

High protection: rated short circuit withstand capacity of 20kA for 0.2sec and 17kA for 0.25sec

Safe maintenance: fully insulated busbar IP20 incomer shroud

More comfort: ample wiring space

Technical characteristics
Standards: IEC61439-1&3

Suitable for modular as non-modular incomers and modular outgoings

ASTA certified

Busbar current rating: 125A

Rated short circuit withstand for busbars: 20kA for 0,2sec and 17kA for 0,25sec

Removable pre punched top and bottom gland plates

Incomer cutout width: 9 mod

Reversible doors

1,2mm thickness sheet steel with epoxy powder coating in RAL 9002

IP41

Accessories: key lock, DIN rail extension boxes